Xbox 360 now $99, Whats the catch?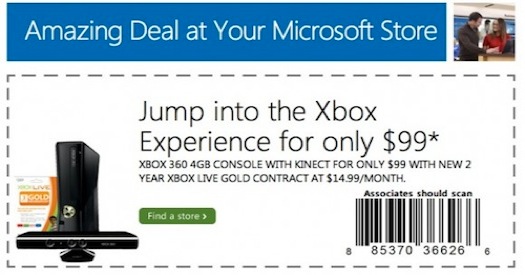 Microsoft is betting big and hoping this new Xbox 360 pricing strategy will pay off in the long run. If you crunch the numbers between the initial $99 and the 2 year subscription of Xbox Live Gold, you will be paying a little more than if you just bought the Xbox 360 out right from Best Buy
.

For what you get in this Xbox 360 package deal you would be paying about $420 (or even less if you shop around) for the Xbox 4GB bundle
 and the Live service
 if purchased outright. If you go with the Microsoft $99 coupon route, you will end up paying $460 after your 2 year Xbox Live subscription is over. The deal would break down to $99 for the initial purchase of the Xbox 360 and $360 for 24 months of the Xbox Live Gold service. 

So at the end, after your 2 year contract is up with Microsoft, you would end up paying around $50 more for the Xbox 360 coupon bundle. If you divide those $50 into the 24 month contract, you would be paying about $3 extra per month for the 2 years.

The Xbox 360 coupon for $99 sounds like a great deal if your strapped for cashand can afford the mandatory $15 per month for Live service. But you will have to remember that if you end up cutting your two-year contract early, you will have to pay termination fees, just how the contracts for wireless carriers work. The fees will start at $250 if you end your contract just one month into the deal and will dwindle down every month until you reach the end of your 24 month contract.
Is this really worth it?
What do you think?
     ~Virginia James